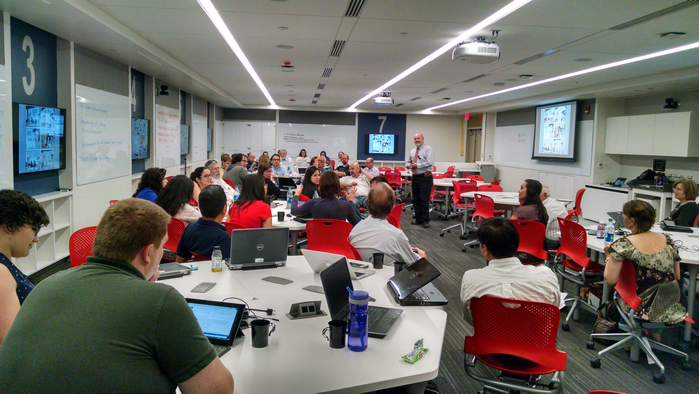 It's not the usual lecture setting, nor is it the traditional teaching approach – it's SCALE-UP.
SCALE-UP, which stands for Student-Centered Active Learning Environment for Upside-down Pedagogies, is an interactive "flipped classroom" where students work in teams to discuss and investigate the content that they've learned prior to class. During class time, the instructor clarifies any questions regarding the material and helps facilitate hands-on activities.
The creator of SCALE-UP and professor of physics at North Carolina State University, Dr. Robert Beichner, visited our state-of-the-art SCALE-UP room on June 5 to conduct a workshop titled, "SCALE-UP Innovation Space: Maximizing Use & Benefits Over Traditional Lecture Settings," to further familiarize the BUILD team as well as the UTEP community with the SCALE-UP approach.
"It's hard to find another SCALE-UP space with this type of technology – you've got the Cadillac," Dr. Beichner said of the facility. The room was donated by the University of Texas at El Paso and funded by the BUILDing SCHOLARS grant.
Research has shown that this type of learning environment improves students' problem solving skills, attitude and conceptual understanding, while reducing failure rates. It is no wonder why SCALE-UP is used at more than 150 institutions nationwide.
The BUILDing SCHOLARS research foundation and research-driven courses, BUILD-sponsored professional development workshops, and BUILDing SCHOLARS summer boot camps will all be hosted in the SCALE-UP Innovation Space, CCSB Room G.0706A.
Learn more about the SCALE-UP concept here.